In this recipe, I replaced the cabbage and carrots with a package of broccoli slaw. You can find broccoli slaw in most supermarkets in the vegetable isle near the salad mixes.  The meat will only taste as good as the quality of your deli purchase.
Ingredients: 
1 package Broccoli Slaw
1 Package Pastrami, 7 ounces
1 Package Eggroll Wrappers
1 teaspoon chopped Ginger

2 Tablespoons Olive Oil 

1 Tablespoons Teriyaki
½ teaspoon Mustard
1 teaspoon salt
½ teaspoon white pepper
Directions: 
Stir-fry the broccoli slaw with the oil, salt, and pepper.  In the meantime, chop the pastrami into tiny bits. Add to the almost-soft vegetables, along with the ginger. In the last five minutes of cooking, add the mustard and teriyaki.  Check one strand of broccoli to make sure you can chew it well before considering the mixture cooked to  your liking.
Measure about three heaping tablespoons into a 2 ounce measuring cup, and use it to fill one egg-roll wrapper.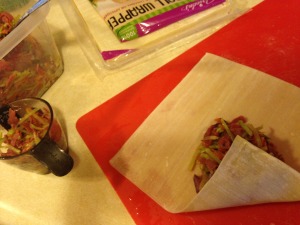 Roll up the wrapper as per the directions on the package.  Freeze the unbaked rolls and bake as needed.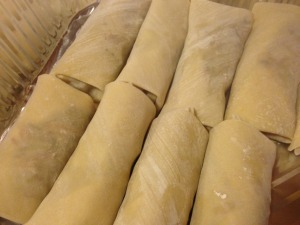 Spray with oil spray on parchment paper and over wrapper, and bake on 350 for 20 minutes.
Yields: 12 eggrolls with ⅛ cup mixture in each. Serving Suggestion: 2 eggrolls, 12 grams protein, 214 calories
Related Posts
10000

Do you miss eating Chinese food now that you are sticking to a post-op puree diet? See Basic Seitan Instructions. Ingredients: 2 ounces Bob's Red Mill Vital Gluten Flour  (23g) 2 ounces water 1/4 teaspoon salt 1/4 teaspoon garlic powder soy sauce 1 scallion 4 ounces chicken broth (3g) Directions:…

10000

Post-op bariatric weight loss meals often skip the doughy ingredients.  Why should you cheat yourself on the flavor though?   Try this potstickers recipe and do submit comments if you added a zesty ingredient for added flavor.  I suggest you make half the recipe on your first try.  Freeze the…