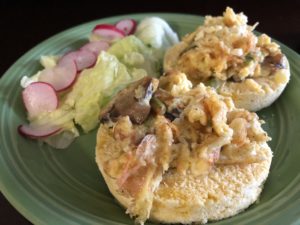 If you have 2 minutes to put the ingredients together, this breakfast muffin will not disappoint! Scramble an egg and chop prepare a salad while the muffin is baking.
Ingredients:
2 tablespoons pumpkin puree, or mashed cooked vegetable such as butternut squash, etc.  (may be replaced with oil if desired)
2 tablespoons coconut flour
1 egg beaten
1 tablespoon coconut milk carton or can, or milk, or milk substitute
1/4 teaspoon baking powderDirections:
Spray a a coffee cup or soup mug  with non-stick oil spray and mix all ingredients inside the mug with a fork. Make sure all the vegetable pieces are well mashed. It's okay if your vegetable was cooked with spices for a previous dish—it will make your muffin more tasty. Microwave on HIGH about one and half minute or until toothpick placed in center comes out clean.  Turn mug upside down and muffin will pop onto plate. Serve with your favorite breakfast sandwich fillers.