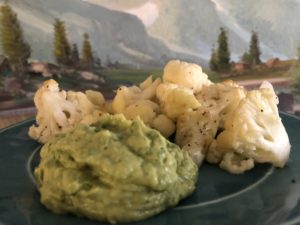 Essential fats are so important for our brain. But for for bariatric patients, the ratio of fat to protein is critical. Up those fats, give your brain the food it needs, and prevent muscle wasting while  you lose weight.
Cauliflower is an excellent source of Vitamin K, which keeps your bones healthy and also prevents losses in bone mineral density which could lead to osteoporosis. Post-op WLS patients must make sure to load up on these essential vitamins and minerals.
This dish is so simple. Roast cauliflower using oil and your favorite seasoning. Don't roast them for too long, or they will get mushy.
Next, in the food processor, mix:
1 avocado
1/2 bunch of parsley
Green onion
3 cloves garlic, optional
Juice of one lemon or lime
jalapeño, optional
salt and pepper
I used organic coconut avocado oil. Mix until smooth and creamy. Add more oil as needed until you have the buttery texture you want. In the Queer Eye episode, Antoni replaces Greek yogurt for mayonnaise to make this "green goddess" dip.
Nutrition Facts:
1 cup cauliflower has 100 calories and 2 grams of protein.