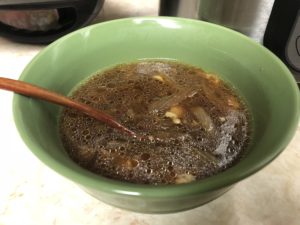 This recipe is for onion soup, legal for the SCD diet and other restrictions. It is entirely dairy free, grain free, gluten-free, vegetarian, and vegan. I did not name it "French Onion Soup" because I won't serve these in ramekins from the oven, or breadcrumbs. Here's all the flavor of your favorite soup without the fluff. Done in less than 30 minutes.
1/4 cup oil

3 medium Spanish onions

5 bay leaves

3 cloves garlic

½ cup vinegar

Salt, pepper, white pepper to taste
*You may replace the oil with butter, the vinegar with lemon juice, and the water with broth stock tp meet your dietary requirements.
Directions:
Peel and chop onions into half-rings. Separate the layers as you drop the sliced onions into the instant pot.

Add the garlic and bay leaves, and oil. Press the sauté setting. Stir, and watch for the onions to caramelize.

When they release some liquid, they are done.

Add 4 cups of water, and the remainder of the seasoning, making sure to taste for enough salt.

Seal with instant pot lid, and set to cook on HIGH pressure (manual setting) for 20 minutes.

Your soup is now done. Be careful, because it will be extremely hot, even for those accustomed to eating freshly cooked food.  Freezes very well!