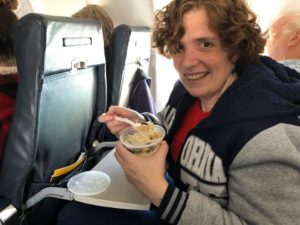 SCD yogurt has to be fermented for 24 hours to be SCD legal. In the process, the bacteria converts the lactose to digestive enzymes and protein. The amount of probiotics in SCD yogurt is estimated to be 50 times more than store-bought probiotics tablets. One spoonful in the early stages is enough to build a tolerance for this super powerful "medicine" in a cup. Personally, I find it easiest to prepare the yogurt in my 3 quart instant pot. [You know you love my videos, so please subscribe to my channel! :)]
Yoghurt is considered a "full liquid" for those after surgery or compromised GI tract. Depending on the milk that you use, you can assume at last the following nutrition facts per cup:
Food              | Calories | Fat  | Carbohydrates | Protein
------------------+----------+------+---------------+--------
Whole Milk Yogurt | 149 cal | 8.0g | 11.4g         | 8.5g
Whole Milk        | 146 cal | 7.9g | 11.0g         | 7.9g
Video Instructions:
Directions:
Simmer the milk (3 quarts) in a large pot until it reaches 180-degrees. Remove from stovetop.
Refrigerate until it cools to 80-degrees.
Pour into 3 quart instant pot.
Add 1/2 cup legal yogurt starter, or 1/8+1/16th of GI Pro yogurt starter. Whisk well until mixed.
Press the YOGURT button on the 3 quart instant pot, and press the plus or minus until 24:00 appears on the display.
In a few seconds, a beep will be heard, signaling that the fermenting countdown has started.
Do not use the instant pot lid to cover the pot. Rather, use the lid from the large pot. The yogurt does not cook with pressure, so there is no reason to keep the pressure lid on.
After 24 hours, the 3 quart instant pot will beep and show YOGT on the display, signaling that your yogurt is done. Pour into storage jars and refrigerate. Your yogurt will stay fresh for at least a week.
Read: