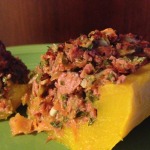 Delicata winter squash is high in vitamin A and C. Besides for its beautiful designs, the skin is edible after roasting or baking, which saves you time in the kitchen. It also boosts your nutrient intake — the skin of vegetables often contains fiber and other vitamins and minerals.  This squash bakes very quickly in the oven. 
Ingredients:
1 Delicata Squash
4 slices pastrami deli, 4 ounces   )
1 ounce fresh spinach leaves
1 shallot, about 1 ounce
½ fresh red grapefruit, peeled
2 tablespoons of your favorite salsa )
Directions:
Scrub squash skin well, or peel if you'd like.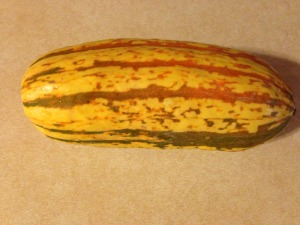 Cut squash in half lengthwise and scoop out seeds.
Place face down in a shallow pan.  Cover with aluminum foil  and bake on 450 for 15 minutes.
In food processor, combine other ingredients and pulse until chopped. Scoop into squash halves, forming high mounds with leftover mixture.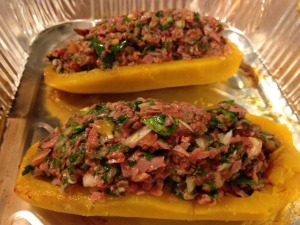 Cover pan and return to oven for 20 more minutes. Allow to cool before cutting in half and dividing into four portions. Otherwise, the filling will spill out.  Reheat and serve. Refrigerates for up to one week in airtight container.
Yields: 4 portions, about 3 ounces each, 8g protein, 105 calories
Related Posts
10000

In this recipe, I used gluten-free spaghetti squash and full fat cream cheese. You can substitute with lowfat, but do make sure the nutrition facts show you that there will be 2 grams protein per 2 tablespoon serving. Many whipped brands cheat on that and only have 1 gram at…

10000

In my opinion, butternut squash has the texture of potato with the sweetness of yams. Topped with nuts, these two textures will blend beautifully in any temperature (eaten warm or cold). Butternut squash is an excellent source of potassium. At 582 milligrams of potassium per 1 cup (cubed), this winter…