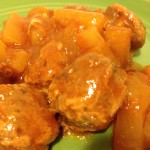 This sweet meatball recipe with protein powder to hold the meat together instead of flour or breadcrumbs. For this recipe, I use lunch buddies cups because they are easier to find with no sugar added than the ordinary canned varieties.  I also use ground beef chuck rather than lean beef, so that I have all the fats that I need from this meal. Ground beef chuck comes from the shoulder and neck area of the cow and is usually very fatty but also has an immense amount of flavoring.  With this yummy sticky sweet sauce, you will be licking your fingers every time you sit down to this dish. Freezes very well. Perfect for lunch at the office.
Ingredients
1 lb ground beef chuck (76g,1120c
1 scoop unjury protein powder chicken soup flavor, or plain unflavored (21g, 100c)
2 tablespoons olive oil (120c)
2 tablespoons hot water
1 packet onion soup mix, about 16 tablespoons (320c)
¼  cup  tomato juice (.25g, 12c)
Sauce:
1 cup tomato juice (1g, 50c)
2 tablespoons cornstarch (60c)
¼ Cup Granulated Splenda
¼ cup white vinegar
2 tablespoons soy sauce (2g,22c)
1 lb pineapple tidbits, no sugar added (4 lunch buddies cups) (4g,240c)
Pineapple juice reserved from pineapple tidbits
Directions:
Preheat oven to 350.  Open the pineapple cups or can, and pour off the juice into a small saucepan.  Pour the pineapple tidbits into an oblong oven pan.
Mix ground meatballs ingredients in a medium-sized bowl.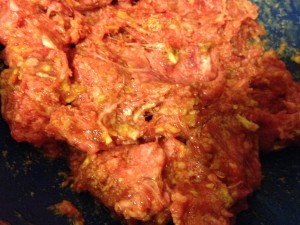 Form into tiny teaspoon-sized meatballs. Drop onto large frying pan and Cook for 4-5 minutes on each side on medium heat.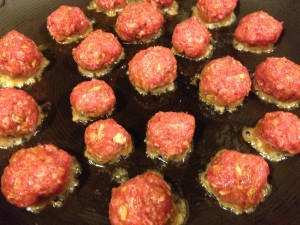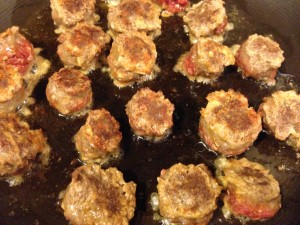 Place cooked meatballs into the pan with the pineapple tidbits.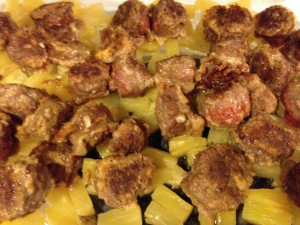 In the saucepan, add remainder of ingredients and simmer on low heat, stirring occasionally, until thickened and bubbling, about 8 minutes.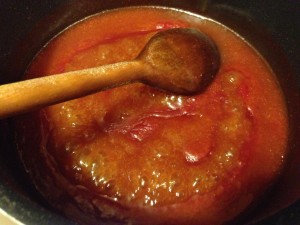 When sauce is done, pour  over meatballs and pineapple tidbits.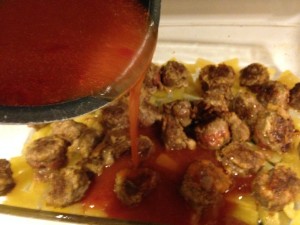 Lightly mix meatballs until they are coated with the sauce. Cover pan with aluminum foil and bake in the oven for 15 minutes. Remove aluminum foil and bake for an additional 15 minutes.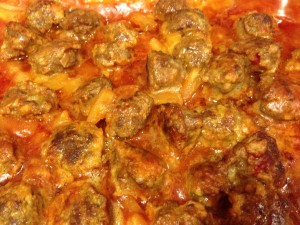 Divide into 6 portions by separating 5-6 meatballs into each container first. Then, add the pineapples and sauce to make sure you will get your protein in first.
Yields: 6 portions, 4 ounces each, at 17 grams protein, 340 calories.
Related Posts
10000

Let the feasting begin!  Your meal might look like a plate of hors d'oeuvres, but you will be filling up with sweet and juicy goodness.  At only 2 ounces, this meal can afford a side dish as well.  Works fantastic with the savory Low-Carb Cauliflower Latkes Bites at 6.3 grams…

10000

You haven't died and gone to heaven yet. Therefore, I unleash these protein powder miracles unto you.  Prepare for a business class seat on the first flight to heaven, no belt extender!! I have recently discovered the Folgers Flavors Coffee Enhancer Vanilla Squirt Bottle, and it has the most amazing vanilla…

10000

This Fall-Flavored salad tastes even better after it is refrigerated for a day. Roasted chestnuts are amazing in flavor and packed with nutrition. It is lower in fats like other nuts but higher in soluble fiber. Roasting is easy. Buy fresh chestnuts and slice a slit halfway across the chestnut.…