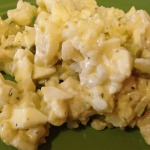 Cauliflower is a virtuous replacement for potatoes.  When flavored properly, this tastes like the real thing. In this recipe, the cauliflower is cooked in the microwave for convenience. You can cook it on the stove, but make sure not to overcook. You want the florets to still hold shape and not get mushy.
Ingredients: 
3 hard-boiled eggs
2 pickles (or 6 mini dill)
8 ounces cauliflower
Dressing:
2 oz. Greek Yogurt, 0%
1 teaspoon spicy brown  mustard
1 teaspoon chopped dill (or 1 frozen cube)
½ teaspoon salt
¼ teaspoon black pepper
3 tablespoons juice from pickle jar
Directions:
In a microwave-safe bowl, cover cauliflower with water and microwave on high for ten minutes.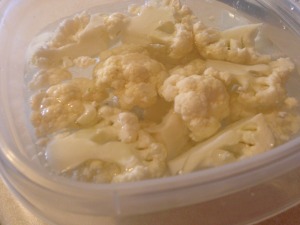 Chop eggs and pickles.  In a small bowl, mix all dressing ingredients.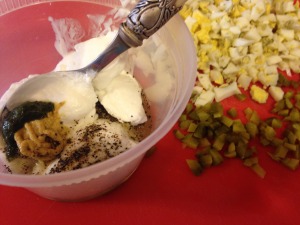 When cauliflower is cooked, drain water and chop into tiny bits.  Mix dressing with all ingredients.  Refrigerate leftovers.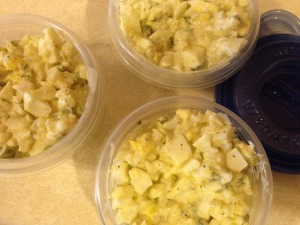 Yields: 16 ounces of salad, five portions of ½ cup each, at 6 grams protein, 68 calories
Related Posts
10000

Gefilte Fish is a traditional Jewish food.   This is a very easy meal to prepare and packed with high protein.  Gefilte Fish is ground up white fish sold in frozen rolls.  It is suggested that the rolls is cooked in water with sugar and spices.  Skip Greek Dill Dip…

10000

If you are lactose intolerant, and don't want to drown your fish with yogurt or other dairy dressing, then consider steaming the fish to preserve all the juices. The fish was like butter, and my house did not smell, because of the ginger. Pictured with yummy kale salad - recipe…

10000

Ingredients: 24 oz can of tuna in water [7g*24] 1/2 cup pickle juice 1 ground celery stick 2 teaspoons mustard 1 ounce 0% Greek yogurt. [3g] Directions: Finely grate celery until mushy. Drain water from tuna can. Add all ingredients to food processor and chop until pureed. Yieds: 17 2 oz. Pureed…