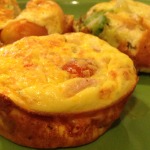 Your home will smell like breakfast when these are baking in the oven.   The finest of omelettes packed into a muffin cup for quick meal prep. Keep refrigerated, and reheat as needed. Two muffins is a single meal serving, since they weigh about 2 ounces each. This recipe will prepare you for six meals. The avocado and olive oil will give you the essential fatty acids that you will need for breaking down the protein.
Ingredients:
4 eggs
1 ripe Fresh California Avocado, seeded, peeled and diced
⅓ cup parmesan, about 12 teaspoons
6 Tablespoons Cream Cheese with Chives
2 ounces feta cheese
24 grape tomatoes
½ purple onion, chopped
1 tablespoons olive oil
1 teaspoon lemon juice
Directions:
Spray larger muffin pan with oil spray. Divide onions and avocado into 12 muffin cups. Add a single grape tomato to each cup.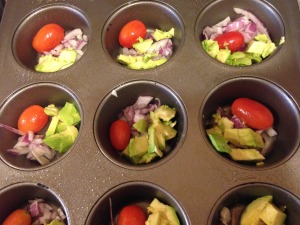 In food processor, mix eggs with remainder of ingredients and rest of tomatoes.  Pour egg mixture into each cup, making sure everything is covered in the muffin pan.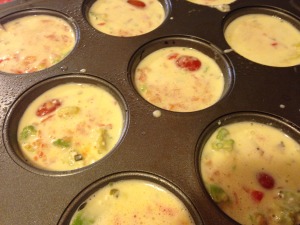 Bake at 350 degrees for 25 minutes.
Yields: 6 servings of 2 muffins per meal, 11 grams protein, 265 calories
Related Posts