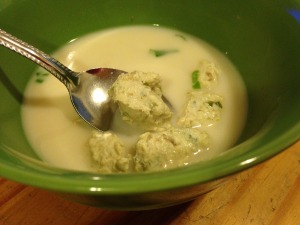 Post-op bariatric weight loss meals often skip the doughy ingredients.  Why should you cheat yourself on the flavor though?   Try this potstickers recipe and do submit comments if you added a zesty ingredient for added flavor.  I suggest you make half the recipe on your first try.  Freeze the leftovers in pre-measured containers.
Boil in large pot:
8 cups lite chicken broth (from 32-ounce carton*)  (8g, 40c)
2 cups water
8 ounces chopped portabella mushrooms  (3g, 21c)
1 tablespoon soy sauce  (1c, 11c)
½ teaspoon white pepper
1 tablespoon salt
In food processor, chop and mix:
2 pounds ground chicken breast*  (208g, 960c)
1 egg (6g, 70c)
1 cup shredded green cabbage  (.9g, 17c)
⅓ cup scallions (4 medium)  (1.8g, 32c)
½ green pepper, finely chopped (4 ounces)  (.9g, 20c)
4 teaspoons chopped gingerroot (6c)
1 teaspoon minced garlic (.4g, 4c)
2 teaspoons oil (120c)
½  teaspoon white pepper
2 teaspoons salt
1 tablespoon soy sauce  (1g, 11c)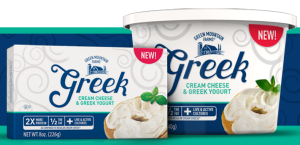 Directions:
Drop ½ teaspoonful of chicken mixture into boiling broth.
Cook for ten minutes.
Add 8 ounces

Greek Cream Cheese

. (32g, 480c)
Cook for ten more minutes until cream cheese is dissolved.
Yields: 15 portions of 2 ounces chicken with 4 ounces broth.
Garnish with chopped scallions.
* You may use darker chicken tops which have are juicer and is easier to chew.
** You may use homemade broth for extra protein at 6 grams per cup, compared to store-bought cartons which have 1 gram per cup.