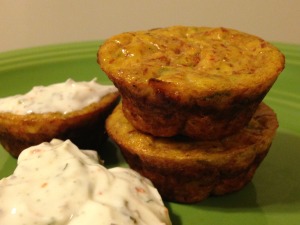 If you are having a productive day and want to cook meals for the week, this gluten-free and flourless muffin recipe will be your perfect investment of your time. I love to prepare these in little containers and then eat them throughout the week for breakfast, lunch, or even dinner; whatever catches my fancy.  It tastes like a meat stew in a cup, or maybe even a breakfast corned beef hash in a muffin.  Enjoy it fresh and warm, cold, or room temperature at work.  The topping will taste a bit like vegetable cream cheese, and will add just the right amount of glide for chewing.  You won't even miss your bagel.
If you are lactose-intolerant, just
Ingredients:
6 eggs  (36g,420c)
½ cup shredded cheese (14g, 160c) [skip if you are lactose intolerant].
4 ounces deli or cooked corned beef (24g, 160c)
¼ cup salsa  (20c)
1 green pepper  (1.8g, 40c)
½ Large onion  (1g, 20c)
1 teaspoon salt
¾ teaspoon black pepper
Topping: Skip if you are lactose intolerant.
Note: with ¾ teaspoons black pepper, this will be very savory.  You can use ½ teaspoon instead if you like your food mildly spicy.
Directions:
Mix topping ingredients and place in refrigerator to set.
preheat oven to 350.
Chop everything in food processor and pour into muffin pan.
For a larger muffin pan, pour 2 ounces per cup.  The cups should be ¾ full.

For a mini muffin pan, 2 ounces will fit into three cups. The cups will be nearly full.

Bake @ 350 for 30 minutes.
Remove from pan and allow to cool.

Top two 2-ounce muffins with ½ ounce of topping each (about 1 tablespoon).

Store each muffin in a GladWare Mini Round Food Storage Containers.

Store in refrigerator, and take to work the next day.  Can be eaten at room temperature.
Yields:
7 servings of 4 ounces muffins, total 11 grams protein, 114 calories.
Greek Yogurt topping: 3 grams protein, 15 calories
Total meal of muffin with topping: 14 grams protein, 129 calories