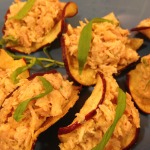 Let the feasting begin!  Your meal might look like a plate of hors d'oeuvres, but you will be filling up with sweet and juicy goodness.  At only 2 ounces, this meal can afford a side dish as well.  Works fantastic with the savory Low-Carb Cauliflower Latkes Bites at 6.3 grams protein, 110 calories. Together, your meal will total to 17.5 grams protein, 280 calories. The cold chicken salad is specifically made with fresh boneless skinless chicken thigh cutlets, the juiciest part. Do not overcook! The tarragon will add an exotic flavor, which to me, tastes like a cross between lemongrass and black licorice. The cold chicken salad on top of the apple chips is a perfect combination of elegance, simplicity, and nutrition. This is a perfect finger food for traveling.
Ingredients: 
1 Boneless Skinless Chicken Thigh Cutlet, fresh or semi-thawed (20g, 110c)
3 sprigs fresh tarragon, chopped (about 1 teaspoon)
¼ cup Pacific Soymilk (2.5g, 35c)
1 teaspoon olive oil (40c)
¼ teaspoon salt
¼ teaspoon cumin
2 tablespoons Lite Thousand Island Dressing (0g,16c)
⅓ ounce Apple Chips Snack, about 7 chips (70c)
Directions:
Slice chicken into finger-like strips.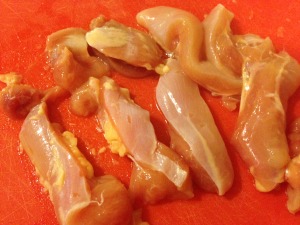 In a small saucepan, combine chicken, soy milk, oil, tarragon, salt and cumin.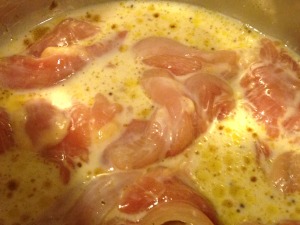 Cook on medium for 10 minutes, stirring occasionally.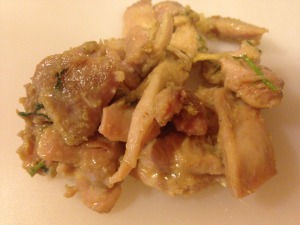 In food processor, pulse chicken with thousand island dressing for 10 seconds.
Fits perfectly in two  GladWare Mini Round Food Storage Containers for portion control. Refrigerate leftovers.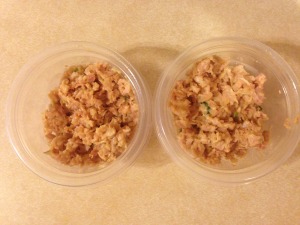 Yields: 2 servings, 2 ounces each, 11.2 grams protein, 101 calories
Related Posts
10000

This delicious lunch is perfect for preparing the night before for a grab-n-go high protein lunch meal.  Do not fry the mixture as directed on the box.  Skip Greek Dill Dip if you are lactose intolerant. Directions: Prepare mix with water as directed. Spray baking pan with oil spray. Form…

10000

Have you seen these containers of marinated mozzarella balls at the gourmet cheese isle in your supermarket?  Here's one quick way to add 4 grams of protein to your meal with just one ounce of mozzarella. Ingredients: 1 ounce (or two small balls) marinated mozzarella (4) 1 egg (6g) 1…