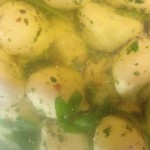 Have you seen these containers of marinated mozzarella balls at the gourmet cheese isle in your supermarket?  Here's one quick way to add 4 grams of protein to your meal with just one ounce of mozzarella.
Ingredients:

1 ounce (or two small balls) marinated mozzarella (4)
1 egg (6g)
1 ounce shredded mozzarella (4g)
Salt & Pepper to taste.

Directions:
Spray small frying pan with oil spray.
Heat the mozzarella balls on a medium flame until half melted.
Pour in one egg, scrambled.
Sprinkle with salt, pepper, and shredded mozzarella cheese.
Flip over to thoroughly cook eggs.
Do not overcook, or it will be hard to chew the mozzarella when crispy.