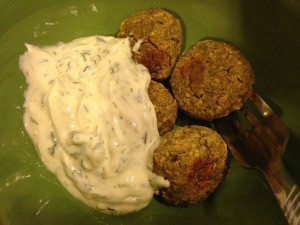 This delicious lunch is perfect for preparing the night before for a grab-n-go high protein lunch meal.  Do not fry the mixture as directed on the box.  Skip Greek Dill Dip if you are lactose intolerant.
Directions:
Spray baking pan with oil spray.
Form small 1/2 ounce balls (measure as a heaping teaspoon, or half a shot glass) and place on pan.
Spray all the balls again with oil spray.
Bake on 450 for 15 minutes. Flip balls, and bake for another 5 minutes.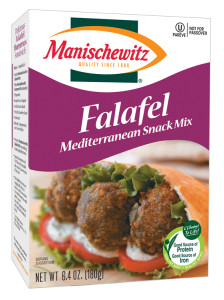 A $6.00 box of Falafel Mix will yield 24 balls (enough for six meals).  This freezes very well, and defrosts while you are at work.   Falafel Mix is available in your supermarket's Kosher or Ethnic isle.
Related Posts
10000

This is my all-time favorite essential recipe for the bariatric puree stage.  I add this dill dip to tuna salad, salmon pate, gefile fish, and even mashed potato.  This is an easy way to supplement extra grams of protein to complete a meal. Ingredients: 1 cup 0% Greek Yogurt  [24g] 2 ounces milk [2 g]…

10000

Sabra Classic Hummus, 2oz Singles are perfectly sized portions are delicious in a meal with other foods.  Excellent for pairing with tuna salad (10g) for a 14 gram protein meal, or as a standalone 4 gram protein snack. Eat it with a baby spoon for a quick flavorful and salty craving fix. NUTRITION INFORMATION Serving Size1/4 Cup (57g)…