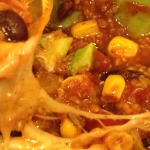 Cook everything in a saucepan for ten minutes, and you have yourself a vegetarian Mexican dinner! I also found a ladle in my house that measures 4 ounces exactly. Divide the portions into small GladWare Mini Round Food Storage containers and freeze. Reheat as needed, and top with ¼ avocado and ½ ounce cheese for necessary fats and calories.
Ingredients
½ cup quinoa, uncooked
2 cups water
1 can black beans
1 cup corn kernels from the can
1 small can (6 oz) tomato paste
1  can chopped tomatoes with green chiles (or plain chopped tomatoes)
1 small can (4 oz) chopped green chiles
2 teaspoons minced garlic
1 teaspoon chili powder
1/2 teaspoon cumin
1 teaspoon salt
½ teaspoon black pepper
Toppings:
¼ avocado, cubed
½ ounce shredded cheese
Directions:
Add quinoa with water to a saucepan. Cook on high until water boils.  Add remainder of ingredients (except tomatoes). Lower to medium and cook for about ten minutes until quinoa is no longer crunchy to taste.  Stir in the tomatoes. Serve immediately.
Yields: 11 portions at 4 ounces each, plus ¼ avocado, cubed (1g,80c) and ½ ounce shredded cheese (3.5g, 35c), totals to 8.5 grams protein, 194 calories.
Related Posts