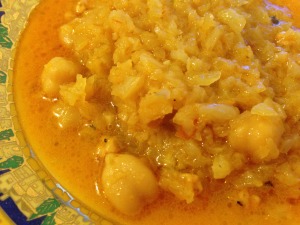 This is a warm winter meal dish that has the added queso fresco for protein.  I would be curious to try this recipe again and put half the cabbage, and double the chickpeas for added nutrition. Please let me know what your total protein count was if you tried that variation.
Ingredients
½ head cabbage, shredded, about 5 cups (8g, 150c)
1 cup oil (1927c)
2 teaspoon minced garlic
1 can chickpeas (21g,350c)
1 10oz.-block queso fresco (60g,800c)
½ cup Prego Meat Sauce (2g, 90c)
2 tablespoons ketchup  (40c)
2 ½ tablespoons salt
1 teaspoon black pepper
1 teaspoon crushed pepper flakes
1 teaspoon liquid smoke
Directions:
In a large 8 quart pot, saute cabbage in oil until golden, stirring frequently.
Stir in garlic, chickpeas and grated queso fresco.
Add salt, pepper, and liquid smoke. Cook for 1 minute.
Add meat sauce and water, and 2 tablespoons sale.
Cook for 45 minutes on medium heat.
Yields:  23 servings of 4 ounce bowls.