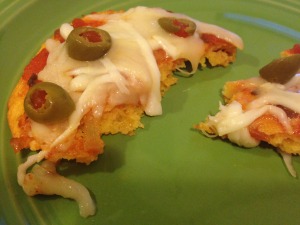 This mini pizza relies on a single slice of Cornmeal Cheddar Sandwich Bread which has 15 grams protein, 187 calories.  Add 1 tablespoon of salsa and 1 heaping tablespoon shredded cheese, and top with your favorite topping.  Bake for ten minutes.
Ingredients:
Directions:
Place bread slice on baking tray.  Spread salsa and sprinkle cheese. Add olive slices.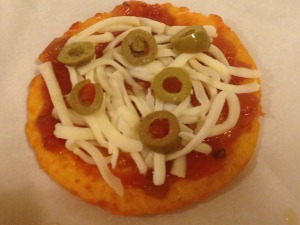 Bake on 350 for 10 minutes or until cheese is melted and bubbly.  Experiment with different toppings to your liking. Serve immediately.
Yields: 1 Flourless Mini-Pizza, 18.5 grams protein, 240 calories
Related Posts
10000

In this recipe, you can freeze the dough mixture in a roll, and then cut small slices to bake. These will be little crackers to go with your favorite dips or toppings. The other option is to freeze the mixture and then form 2 ounce balls which can be flattened into patties. These will be…

10000

In this recipe, I used gluten-free spaghetti squash and full fat cream cheese. You can substitute with lowfat, but do make sure the nutrition facts show you that there will be 2 grams protein per 2 tablespoon serving. Many whipped brands cheat on that and only have 1 gram at most. These little alfredo bites…

10000

CheeseCake Cup: 16 oz. cottage cheese [56g] 1 package Jell-O Sugar-Free Instant Pudding and Pie Filling, Cheesecake Flavor 1 serving protein powder [21g] 4 tbsp fat-free milk [2g] 8 oz. fat-free or sugar-free cool whip Directions: Mix all ingredients in food processor until smooth. Chill and serve.  Lasts at least two weeks in the refrigerator. Yields: 7 portions @…