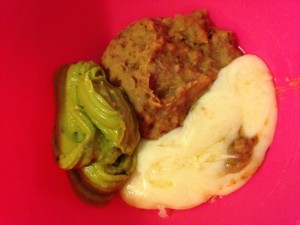 Ingredients:
1 cup red kidney beans  (2oz@9g=36g)
½ cup great northern beans   (2oz@8g=16g)
½ cup barley   (2oz@3g=6g)
12 cups water
4 oz. (4 cubes) minced onions
1 ½ cups (12 oz.) cooked chicken [chicken in water can: 2oz@10g=60g]
taco seasoning packet
1 teaspoon salt
1 teaspoon garlic powder
Directions:
In a large pot, combine beans and water.  Boil on a high flame and lower to medium after 5 minutes.
After one hour, add:  onions and chicken.
After 30 minutes, add taco seasoning packet and spices.
Cook for ten more minutes.
Mix in food processor until pureed.
Yields: 56-60  oz , or  7.5 cups of taco mixture. Divide into 28 2oz servings @ 4.21 grams protein each. Serving Suggestion for a 13 gram protein Taco Meal:
2 oz Taco Puree (4.21g)
2 oz Shredded Part-Skim Cheese (8g)
1 Tablespoon Guacamole (1/2 gram of protein)
Related Posts
99

Ingredients: 2 Cups chicken cooked in soup [7*16=112g] 1 cup almond milk [1g] 2 cups clear chicken broth [6*2=12g] ½ cup  sauteed onions salt & pepper Directions: Cook chicken in soup, remove from pot.  Tear chicken away from bones, discard skin. Mix all ingredients in food processor until pureed. Yields: 23 2…

97

Ingredients: 1 egg (6g) 1 ounce feta cheese (6g) 1 ounce shredded cheese (8g) 1 teaspoon bruschetta from jar ¼ ounce minced onions (1/4 slice from one ounce cubes) salt & pepper to taste Directions:  Spray small frying with oil. On medium heat, combine feta cheese, minced onions and bruschetta, cook until bubbling.…

97

Ingredients: 1 pack calf liver, broiled (3 slices)[3*80=240g] 1 cup sauteed onions 2 oz. 0% Greek Yogurt, 0% [2*4=8g] 1 cup Almond Milk [1g] Directions: Rinse and broil the liver on highest oven temperature for 10-15 minutes. Make sure to check that the edges do not burn.  Liver is…

94

CheeseCake Cup: 16 oz. cottage cheese [56g] 1 package Jell-O Sugar-Free Instant Pudding and Pie Filling, Cheesecake Flavor 1 serving protein powder [21g] 4 tbsp fat-free milk [2g] 8 oz. fat-free or sugar-free cool whip Directions: Mix all ingredients in food processor until smooth. Chill and serve.  Lasts at least two weeks in…

88

An important basic foundation recipe for mashed potatoes with added protein. This recipe can used to add thickening to broths in the full liquid stage. Ingredients: 4 large Idaho potatoes -or- 4 lbs. 1 cup Milk [8g] 4 oz. Greek Yogurt, 0%  [3*4=12g] 1 cup sauteed onions Directions: Peel and chop potatoes…