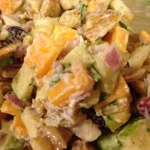 This Fall-Flavored salad tastes even better after it is refrigerated for a day. Roasted chestnuts are amazing in flavor and packed with nutrition. It is lower in fats like other nuts but higher in soluble fiber.
Roasting is easy.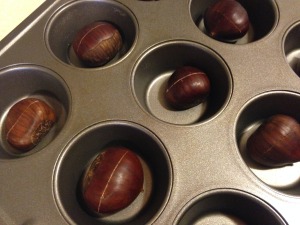 Buy fresh chestnuts and slice a slit halfway across the chestnut. Place in a pan in the oven. Bake at 350 for 35 minutes.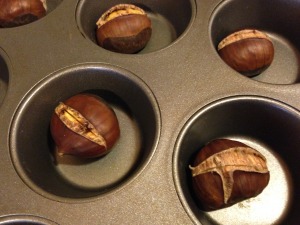 Peel and discard shell and furry skins.
Ingredients:
½ purple onion, chopped  (4c)
12 roasted chestnuts, about 6 ounces after peeling  (3g, 207c)
1 Granny Smith apple  (.6g,116c)
4 cheddar cheese sticks, thinly sliced (24g,340c)
¼ cup craisins or dried cranberries (120c)
3 sprigs fresh tarragon, chopped, about 1 teaspoon
2 teaspoons lemon juice
Dressing:
1/4 cup greek yogurt  (12g,65c)
⅛ cup Pacific Soymilk (1.252.5g, 17.5c)
1 teaspoon ground allspice
Directions: Chop and mix all ingredients and refrigerate.
Yields: About one pound of salad, 4 portions of 6 ounces each servings, 10.2 grams protein, 217 calories per serving.
Related Posts
10000

In my opinion, butternut squash has the texture of potato with the sweetness of yams. Topped with nuts, these two textures will blend beautifully in any temperature (eaten warm or cold). Butternut squash is an excellent source of potassium. At 582 milligrams of potassium per 1 cup (cubed), this winter squash tops the charts when…

10000

Cauliflower is a virtuous replacement for potatoes.  When flavored properly, this tastes like the real thing. In this recipe, the cauliflower is cooked in the microwave for convenience. You can cook it on the stove, but make sure not to overcook. You want the florets to still hold shape and not get mushy. Ingredients:  3…

10000

If you are lactose intolerant, and don't want to drown your fish with yogurt or other dairy dressing, then consider steaming the fish to preserve all the juices. The fish was like butter, and my house did not smell, because of the ginger. Pictured with yummy kale salad - recipe below.  Note: Kale salad is…