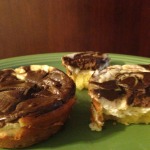 The protein powder recipe you've been waiting for!  These easy-to-serve mini cheesecakes are baked in a large muffin pan for ease of storage and portion control.  If you haven't refined your skills yet for marbling the batter, then just leave it as two layers. With the crust, this will have three amazing layers.
Ingredients:
Crust:
½ cup fine cornmeal
½ cup cottage cheese
1 packet sweetener
Preheat oven to 350. Spray  large muffin pan with oil spray. In a small bowl, mix crust ingredients by hand until mixture turns to dough.  Form 12 small balls with the dough. Drop one ball into each muffin cup. Firmly press with fingers until a crust is shaped.  Bake for 15 minutes.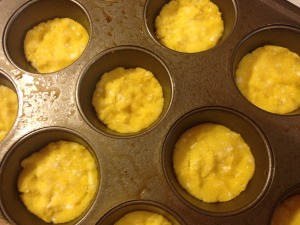 In food processor, combine cream cheese, yogurt, muscle milk, eggs, vanilla, and splenda.  Process until smoothly mixed. Pour part of the mixture into muffin pans, filling only half of each cup.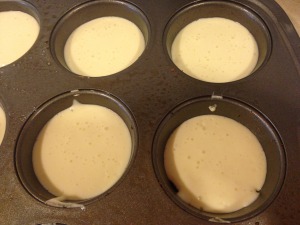 Add carob powder or cocoa to mixture and pulse in food processor until blended.  Pour remaining mixture to fill the muffin cups.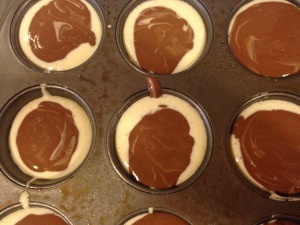 With a knife, draw a figure 8 or random yinyang pattern into batter of each cup.  Do not overmix with knife.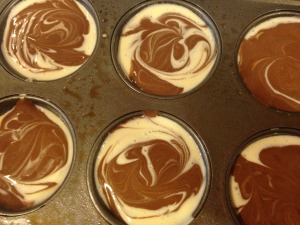 Bake in oven for 20 minutes.  Freeze leftovers.  Spoils in fridge after 2 days.
Yields: 12 single-serve cheesecakes, 10 grams protein, 103 calories each
Related Posts
10000

CheeseCake Cup: 16 oz. cottage cheese [56g] 1 package Jell-O Sugar-Free Instant Pudding and Pie Filling, Cheesecake Flavor 1 serving protein powder [21g] 4 tbsp fat-free milk [2g] 8 oz. fat-free or sugar-free cool whip Directions: Mix all ingredients in food processor until smooth. Chill and serve.  Lasts at least two weeks in the refrigerator. Yields: 7 portions @…

10000

There are no words.   I will stop talking now. Ingredients: 1 ripe banana, mashed 2 eggs 1/8 teaspoon baking powder 1/8 teaspoon ground cinnamon (optional) 2 ounces Greek yogurt 2 tablespoons lite pancake syrup Directions: chop first four ingredients in food processor poor mixture into a cup Use the cup to pour six equal amounts…