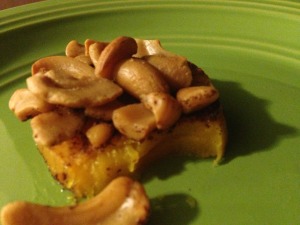 In my opinion, butternut squash has the texture of potato with the sweetness of yams. Topped with nuts, these two textures will blend beautifully in any temperature (eaten warm or cold). Butternut squash is an excellent source of potassium. At 582 milligrams of potassium per 1 cup (cubed), this winter squash tops the charts when compared to bananas at 422mg. One cup of butternut squash provides a whopping 437% percent of your vitamin A needs for the day. Vitamin A helps your eyes adjust to light changes when you come in from outside and also helps keep your eyes, skin and mucous membranes moist. It is recommended that women consume 800 mcg and men consume 1000 mcg of vitamin A daily. Gastric bypass patients are typically advised to take 200% of the daily value.
In butternut squash, you will also find 52% of vitamin C and 10% or more of vitamin E, thiamin, niacin, vitamin B-6, folate, pantothenic acid, magnesium and manganese. Lastly, early information from scientific studies suggests that beta-carotene might help people who already have Coronary Artery Disease (CAD).
Ingredients: 
1 small butternut squash, about 12 ounces (3g,135c)
9 ounces cashews, soaked in water overnight  (40.5g, 1244.25c)
1 tablespoons olive oil (120c)
1 teaspoon cinnamon
½ teaspoon allspice
Directions:
Preheat oven to 350 degrees. Peel and cut the butternut squash into round slices. Spread slices out in a flat pan.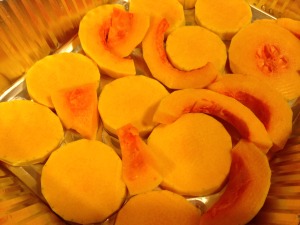 Mix oil with spices into a paste and spread across the top of all the slices.  Top the slices  with soaked cashews.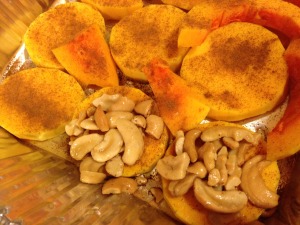 Cover pan with aluminum foil and bake at 350 for 40 minutes.  Uncover pan and bake for an additional 20 minutes. Refrigerate leftovers and reheat as needed.
Yields: 4 portions at 4 ounces each, 10 grams protein, 375 calories per serving.