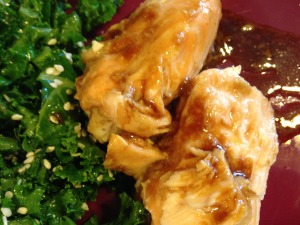 If you are lactose intolerant, and don't want to drown your fish with yogurt or other dairy dressing, then consider steaming the fish to preserve all the juices. The fish was like butter, and my house did not smell, because of the ginger. Pictured with yummy kale salad – recipe below.  Note: Kale salad is not cooked, and is therefore not suitable for those right after  weight loss surgery and in the early stages of bariatric chewing issues.
Directions:
Rinse a fresh salmon filet slice and put it on to a sheet of aluminum foil.
Drizzled with 1 teaspoon teriyaki sauce and 1 teaspoon crushed ginger.
Fold up the sides of the aluminum foil and pinch the top to form a tent pouch.
Create a "double-boiler" by placing the pouch into a tiny frying pan, and place the frying pan inside (okay if it's at an angle) a saucepan filled halfway with water.

After the water bubbles, lower to medium and let it steam for 15 minutes.
Be careful to monitor the water levels and add more water if it cooks out.
When cooked, cut away half the slice and refrigerate for another meal.  Each half should measure about 3 ounces, which is perfect for adding some kale salad to round out your 4 ounce meal.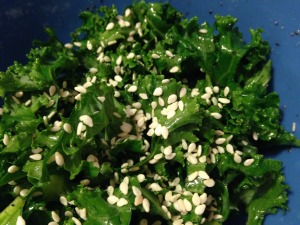 Kale salad:
1 ounce raw kale
1 teaspoon coconut oil (or any oil)
1 teaspoon vinegar
1 teaspoon (frozen cube) crushed ginger
1 teaspoon sesame seeds
⅛ teaspoon salt
⅛ teaspoon black pepper
Directions:
Chop 1 ounce of fresh kale into small bits.
Mix dressing ingredients and nuke in microwave for 20 seconds.
Mix with kale. Enjoy fresh or refrigerate to marinate and enjoy later.