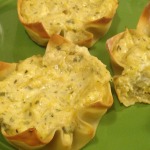 In this recipe, I used gluten-free spaghetti squash and full fat cream cheese. You can substitute with lowfat, but do make sure the nutrition facts show you that there will be 2 grams protein per 2 tablespoon serving. Many whipped brands cheat on that and only have 1 gram at most.
These little alfredo bites are perfect for a warm meal, but also tastes delicious straight from the refrigerator. Store 3 per zip-lock bag and freeze. Grab one bag in the morning when heading to work. It will defrost in time for lunch.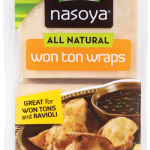 Ingredients:
12 wonton wrappers (.75g,20c*12=9g,240c)
6 ounces spaghetti squash, cooked (.9g,45c)
1 (8 oz) container cream cheese with chives (16G,800C)
4 tablespoons Finely Grated Parmesan Cheese (7.9g, 88c)
½ cup soymilk (5g, 70c)
3 teaspoons minced garlic  (1.2g, 12c)
½ teaspoon salt
¼ teaspoon black pepper
¼ teaspoon cumin
¼ teaspoon crushed red pepper flakes
Directions:
Preheat oven to 350.
Spray a large muffin pan with oil spray.
Press a wonton wrapper into each muffin cup.

Add cream cheese, soymilk, and spices in a small saucepan.   Simmer on low heat, stirring occasionally.

When smooth and creamy, add squash and Parmesan cheese. Mix well.
Drop two tablespoons of mixture into each cup.
Bake at 350 for 15 minutes. Allow to cool.
Serve warm, room temperature, or cold after refrigerating.
Yields: 12 appetizers, less than 1 ounce each.  Serving size: 3 pieces at 10 grams protein, 313 calories.
Related Posts