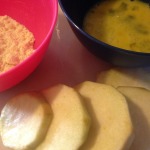 Do you miss those good old days with hefty eggplant fries on the side of your burger?  If you dare to try this recipe, you might get your cravings satisfied and be very full too.   You might be surprised by the texture of the batter, but it certainly beats pureed food after surgery.
Ingredients:
2 ounces eggplant (1g, 25c)
1 egg (6g, 70c)
1 scoop Unjury protein powder, chicken soup flavor (21g, 100c)
salt and pepper
Directions:
Peel and slice the eggplant.  Lay flat on cutting board and sprinkle with salt. Let stand for 15 minutes. Squeeze out the water and rinse slices thoroughly.
With a fork, beat the egg in a bowl with salt and pepper, and favorite spices.
Add protein powder to separate bowl.
Coat each slice with powder, egg, and then powder again.
Fry in oil. Drain fat with paper towel.
Yields: 1 serving, about 4-5 slices, at 28 grams protein per serving. Net 195 calories, without adding the calories of the frying oil.
Serve with 1 ounce Creamy Protein Dipping Sauce for an added 3 grams protein to your meal.  Your total intake will be 31 grams protein for the meal.
Related Posts