This soup is thick with lovely textures and high in nutrients.   I like to add a tablespoon of avocado cubes into the soup, so you can freeze the cubes with the soup portions; It will not turn brown, so long as it is covered in liquid while freezing.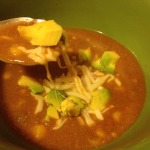 Ingredients: 
4 Tablespoons Green Chili Peppers (10c)
1 medium tomato (1g, 22c)
1 small onion (1g, 20c)
8 oz Ground beef (20% fat) browned with ½ packet taco seasoning (36g, 640c)
1 (16 oz) Can refried beans (24g, 400c)
Directions:
Finely chop ingredients in food processor.
Add to saucepan with:
2 cups clear chicken broth (12g, 172c).
½ packet taco seasoning
1 can (11 oz) Mexican style corn with red & green peppers, or plain can corn corn (8g,320c)
Boil on medium for 15 minutes, stirring occasionally.
Yields: 9 portions, 4 ounces each  (9 grams protein per portion, 176 calories).
Serve with 1 ounce shredded cheese (2 grams protein) for a 11 gram protein meal.
Related Posts
10000

Cook everything in a saucepan for ten minutes, and you have yourself a vegetarian Mexican dinner! I also found a ladle in my house that measures 4 ounces exactly. Divide the portions into small GladWare Mini Round Food Storage containers and freeze. Reheat as needed, and top with ¼ avocado and…

10000

This easy trick is courtesy from the women's health magazine. Just cut a red onion into fairly large chunks into an airtight plastic container, and place the avocado half (with the pit) on top.  The skin should be touching the onion chunks. Put the lid on the plastic container, throw…