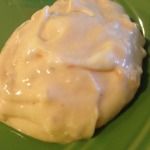 This easy-to-mix dipping sauce is thick and creamy.  Perfect for chips, vegetables, and meats. Although the recipe calls for one teaspoon minced garlic per ounce, the garlic flavor is not intense or overpowering.   Make this in advance and keep it in the fridge to add a finishing touch to your meals.
Ingredients
1 ounce Greek yogurt (3g, 22c
1 tablespoon Lite Thousand Island Dressing (0g,8c)
1 teaspoon minced garlic (0c)
Yields: one ounce of creamy dipping sauce.
Related Posts