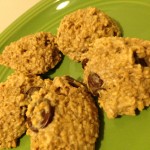 You really want to grab a cookie and run to do your errands. Well, then why not? This one has protein and all the flavor you need, plus the chocolate you might crave. The oats offer a gluten-free alternative to flour and still add protein.  With the bananas, you don't need to use eggs, making this a vegan staple. Finally, in this recipe, I used cashew butter which has the mildest nut taste, for those who are not wild about peanut butter but still want to calories and protein. Consider portion control and try to nibble only on one cookie per day, as they are very filling.  Are you bold and daring, and have added some ingredients? Cocounts? Dried fruits? Comment below and share your recipe! The spices are important, or it will taste like a ball of porridge.
Ingredients
2 ripe bananas, mashed
1 ½ cups steelcut cup oats
⅓ cup cashew butter, about 5 ½ tablespoons or 4 heaping tablespoons
½ cup unsweetened chocolate chips, miniature chips preferred
¼ teaspoon nutmeg
½ teaspoon allspice
Directions:
Preheat the oven to 350 degrees. Since I used ripe bananas that were frozen, I ran them under hot water and peeled them. Then, I added the bananas to the food processor, and mixed it with the nut butter.  I used this mashed mixture to fold in the red of the ingredients.  If using ripe bananas, simply peel and mash well and mix all ingredients in a bowl by hand.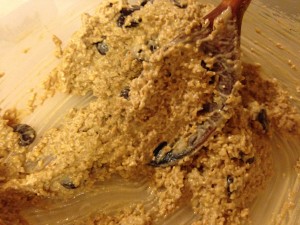 Drop a heaping tablespoon of the mixture onto a parchment-lined baking sheet.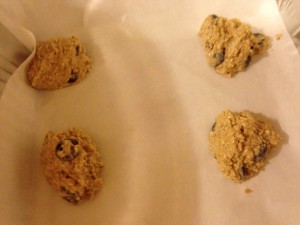 Bake on 350 for 15 minutes or until bottoms are golden.   Note– the shape will not change, so make sure you form them into appetizing-looking blobs.
Yields: 20 cookies, 3 grams protein, 108 calories per cookie
Related Posts
10000

This meal recipe relies on a serving of six Cornmeal Cheddar Crackers which have 15 grams protein, 187 calories.   They are very filling, so do not worry about the portion size.  I like this best after spreading the cheese onto the crackers, and then toasting the crackers in the oven…

10000

Tired of expensive and chalky protein powders? Try whipping up this high-protein drink from readily available protein products in your home. This tastes like a chewy peanut candy bar blended in chocolate milk.  Kids will love this liquid breakfast.  2 ounces steel cut oats (5g) + 2 ounces milk (2g) combined…