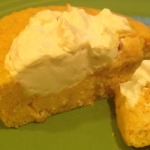 You haven't died and gone to heaven yet. Therefore, I unleash these protein powder miracles unto you.  Prepare for a business class seat on the first flight to heaven, no belt extender!!
I have recently discovered the Folgers Flavors Coffee Enhancer Vanilla Squirt Bottle, and it has the most amazing vanilla flavor with zero calories.  I have also tried several unflavored brands of protein powder for incorporating into recipes, and only the Unjury brand stands apart from the rest. It has 21 grams protein, and absolutely no flavor distinguishable when added to foods. Unjury makes bariatric medical grade nutrition products and is available on their website.  If you don't have Unjury, substitute with your favorite vanilla brand, and calculate accordingly.
Ingredients:
3 ounces baby carrots, or 1 snack pack (1g,35c)
2 ounces cashews, soaked in water overnight (10g, 314c)
¼ cup (¾ ounce) shredded coconut (1g, 80c)
¼ steelcut cup oats (5g, 150c)
2 Eggs     (12g, 140c)
½ cup soymilk* (5g, 70c)
1 scoop unjury protein powder, unflavored or your favorite flavor (21g, 100c)
½ cup fine cornmeal (8g,355c)
½ cup greek yogurt   1/4 cup greek yogurt  (12g,65c)
½ cup  unsweetened applesauce (50c)
5 Tablespoons lemon juice, or 1 ounce (7c)**
1 tablespoons olive oil (120c)
2 packets sweetener
½ teaspoon baking powder
* IMPORTANT: The recipe with the soymilk makes it stick to the pan, so you might want to use cup liners. If you skip the skoymilk, the cupcakes will slide ride out, but you will have to deduct 1/2 gram of protein for serving (2 cupcakes).
**Note: I was asked to remake this recipe with added ginger, nutmeg, and allspice. This note will be removed when the measurements are added to the ingredients. 
Cream Cheese Frosting:
1 block (8 ounce) of Fat-Free Cream Cheese (32g,240c)
1 ounce soymilk (1.25g,17.5c)
2 packets sweetener
Directions: 
Yields: 12 muffins, 9 grams protein, 142 calories each. Two per serving, at 18 grams protein, 284 calories. Eat with a spoon when warm (the cheese will be runny) or enjoy cold from the refrigerator (the cheese will be solid like a cream center).
Related Posts
10000

In the pureed stages, these cheese crisps protein snacks can be chewed once for instant pureed texture.  Chew with discretion, and know yourself! 6 crisps -or 1 ounce- is 7 grams of protein.  "The key for me was watching the bubble turn brown first."  ~ Stace Russell-Samuels, Florida Directions: Place a sheet of parchment paper on a…

10000

There are no words.   I will stop talking now. Ingredients: 1 ripe banana, mashed 2 eggs 1/8 teaspoon baking powder 1/8 teaspoon ground cinnamon (optional) 2 ounces Greek yogurt 2 tablespoons lite pancake syrup Directions: chop first four ingredients in food processor poor mixture into a cup Use the cup to pour six equal amounts…