After my RNY Bariatric weight loss surgery, the successes began to unfold exponentially. Here is my person timeline of weight loss, and #NSV (No-scale victories) in chronological order.
6/25/2014 – Day before surgery, 240 lbs, 18 lbs lost since starting the lean green and medifast pre-op diet. Size 3x is loose.
6/26/2014 – RNY bariatric weight loss surgery, started at 7:30 am, came to in recovery about 1:30 pm.
6/27/2014 – Post-op day one, was able to sleep three straight hours at night, and also take two real walks in the hospital hallway.  Was able to begin drinking clear liquids. I had brought my own chicken broth from home, and it was a welcome diversion from the pain.
6/28/2014 – Survived the car-ride home from the hospital by clutching a pillow to my abdomen.
6/29/2014 – 3 days post-op, enjoying a giant cup of coffee. Tomorrow I start full liquids. I'm looking forward to the yogurt! Wearing size 2x.
6/30/2014 – Oh Food, Glorious, Food! Day 4, and I got a 6 oz yogurt in over a span of nine hours.  Day # 4 comes to a close with a victorious BM!
7/1/2014 – Day 5 and I can see past my tummy and see the numbers on the scale. I was able to sleep on my side this night.
7/2/2014 – #NSV I was craving eclairs, but I noticed that my mind was craving it, and my mouth was not salivating!
7/3/2014 – 1 week post-op follow-up with the surgeon.  I was cleared for driving, and cleared to start pureed food.
7/4/2014 – Day 8, first day post-op with normal blood pressure. No doubt the protein intake from the purees are helping me organize my energy and manage the pain.
7/5/2014 – Day 9, the moods have hit.  Today I am feeling euphoric about the surgery.  I am worrying about all this energy.  Managed to get in 13 grams of protein for lunch.
7/6/2014 – Day Ten, 226.8 lbs, 14 lbs lost in ten days post-op.
7/7/2014 – Day 11, 225 lbs. 15 lbs lost post-op. I was able to wash my hair with help. Still unable to lift my arms up without pain.
7/8/2012 -Day 12, 223 lbs. , when I move my toes, I can see some bones or 'things' on the top of my feet. I don't think I ever had those in my life?
7/9/2014 – Day 13, 223, 18 lbs lost since RNY weight loss surgery 13 days ago.
7/10/2014 –  Day 14, two weeks, 221 lbs. Was able to dress up and hang out with friends all night long.  Moods are down.
7/11/2014 – Week 3, feeling miserable and sad, gas pains, and recovering from too much exertion the day before.
7/12/2014 – Stalled at 223 lbs
7/13/2014 – Week 3 post RNY weight loss surgery, and GERD and Crohn's seem to have vanished!
7/14/2014 – Day 18, 223 stall, moods are better, and my cognition is returning.
7/15/2014 – annoyed with the stall and the slow progress, but grateful for the network of friends that I found on a closed facebook group for June surgery buddies.
7/16/2014 – increased pain and swelling, high BP, ER visit.  Rehydrated and shipped home.
7/17/2014 –  Week Three  221.6 lbs, one week stall continues.
7/18/2014 – 9 day stall, but the numbers 222 tickled my OCD funnybone this morning.
7/19/2014 –Day 23, 219.4, 9 day stall over?   I lost two pounds overnight. I'm afraid to hope!!
7/20/2014 – 220 lbs.  Today, I launched ProteinArtist.com
7/21/2014 – First time throwing up.  Eating too ambitiously. Lesson learned.
7/22/2014 – I disclosed my RNY surgery to my sister.
7/23/14 – 218 lbs, major relief, first period since the surgery.
7/24/14 – Four Weeks, 218 lbs, pain is pretty much gone.
7/25/14 – 29 days, 216.8 lbs, By-bye plus sizes!  Fit into L/XL at Old Navy.
7/28/2014 – 32 days, left-side abdominal pain is gone.
7/29/14 – 33 days, #NSV had a dream this night about eating, and very carefully chewing.  This lifestyle has now crossed over into my subconscious.
7/30/2014 – 218 lbs, week four, decreasing caffeine intake and confident about kicking my coffee addiction.
7/31/14 – 3 weeks since my stall, five weeks from surgery.
8/1/2014 – #NSV By-bye blood pressure medication! Former coca-cola addict here sitting and craving a spicy Parmesan chip.
8/3/14 – getting compliments on my new 16/XL clothes
8/4/14 – 215 lbs, stall has cracked, size 16's hanging on me. 14's are fitting now. Walked 1.6 miles to the mall and back, counted on the pedometer app.
8/5/14 – 214 lbs, the bulge above my bra under my arms is gone, and I am able rest my batwings against my body for the first time in my life.
8/6/14 – I lost my padding. I now have to sit on a pillow or my tailbone cries.
8/7/14 – 215 lbs, weight is fluctuating/stalling again.  It's okay, I'm looking forward to being a solid size 14 for a few more days or so.
8/8/14 – Six week, flew from New York to Los Angeles, and had a great day getting by merely from buying yogurts in the airports.  I took my baby spoons along in my handbag
8/9/14 – 209 lbs, Lost 5 pounds this night.  I'm learning to push my food away when feeling full.
8/29/2014 –  Two months, I now weigh 203 lbs, and 55 lb total weight loss.
9/1 – Back to work, and feeling healthy!
9/5 – 9 weeks, size 14's are hanging on me. Can't wait to try on my mediums again in a week.
9/7 – #NSV First choir rehearsal of the Fall season tonight, and everyone commented, "wow, you look excellent".
9/10/14 – 10 weeks, signed up for the gym and a personal trainer.  measured at 43% body fat.
9/14/14 – 11 weeks, celebrating a drug-free morning.   I am no longer taking any medications anymore.
9/18/14 – 57 lbs lost, 3 month surgiversary today
9/21/14 – On the bright side, who gets to eat takeout for $1.61?
9/24/14 – #NSV when you have a dream where you are chewing carefully….
9/26/14  toilet paper is able to hang on the roll. It doesn't stab me anymore in the side, and I can flex and reach without spazzing.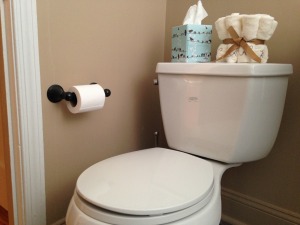 9/27/14 – 201 lbs, 3 months, The joys of eating half a freezer meal (meatloaf with mashed potatoes) and saving half for the next day, while still taking in 10 grams protein and 120 calories!!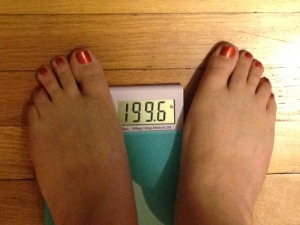 10/1/14 – Onederland has arrived!!!!  And fitting into size Mediums. Dare I say that I am just another 'normal' person in the world?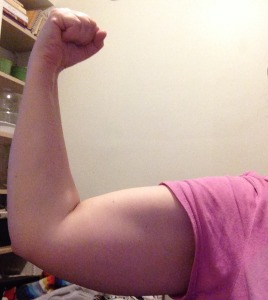 10/3/14 – Three weeks with the personal trainer, and my batwings are firming up!
10/4/14 – Onderland is certainly here to stay.
10/15/14 – Weight is not moving, muscles are building. The personal trainer is helping me shift my posture to eliminate stress on my tailbone and knees. Pain is gone.
10/20/14  – My body change has changed completely. The fat that melted has made my skin land in different places. I don't recognize this new curvy shape.
10/28/14 – 197 lbs, Starting my fifth month after surgery.  Was treated to the best gift ever: My sister had the Gastric Sleeve Surgery today !
10/30/14 – Was rear-ended by another vehicle as I was entering a highway. When an arrived to take a police report, I shook the officer's hand. For the first time in my life, felt like a well-dressed serious professional.
11/2/14 – 193 lbs, had new headshots taken this morning to celebrate 65 lbs lost. Halfway to my goal.
11/4/14 – I am losing my size 14 clothes.  I'd rather just squeeze into 10's than spend money on 12's which will last me a week.