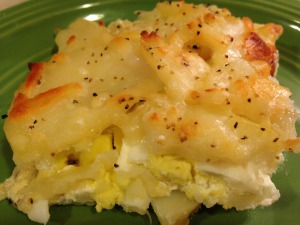 This is a traditional Hungarian delight, fattening and satisfying to potato seekers. However, after weight loss surgery, it is important to bring in nutrition from various food groups. In this recipe, you might consider mixing the sour cream with part greek yogurt and pack in the extra proteins.   Serve warm. Reheat leftovers.
Ingredients:
4 ounces sour cream  (2g,193c)
2 ounces shredded cheese (7g, 80c)
1 lb. potato (or 1 giant idaho potato) (7g, 283c)
2 hard boiled eggs [12g, 156c]
salt & pepper to taste
Directions:
Boil the unpeeled potato in water until cooked. It might take about 45 minutes.  Allow the potato to cool on a towel or cutting board.  Peel the skin. Slice into thin slices.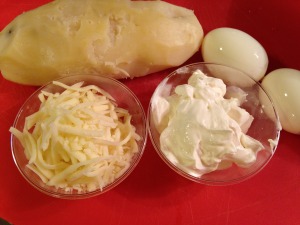 Peel and slice the hard boiled eggs lengthwise, so that every slice has some yellow in it.
Measure and prepare the cheese and sour cream.
In an oven pan, arrange the layers:
Sliced potato, salt+pepper, ⅓ sour cream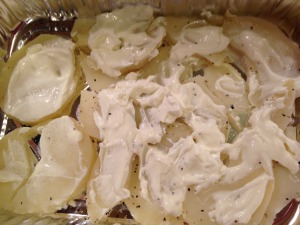 Sliced eggs, ½ shredded cheese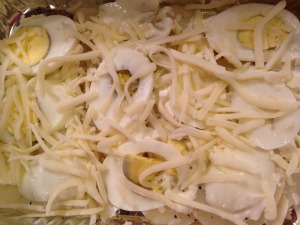 Repeat until the top layer has only potatoes.
Top with the remainder of the shredded cheese.
Bake in the oven on 350 for 30 minutes or until golden.  Refrigerate leftovers and reheat in oven.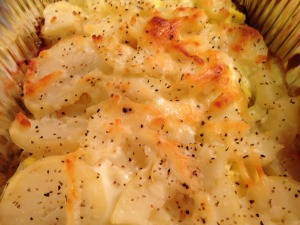 Yields:  About five 4 ounce portions, 5.6 grams protein, 142 calories
IDEA: If you are going to take the time to boil the potato, then double it and also consider the potato salad recipe.

Related Posts
10000

Potato salad is an easy-chew option for those days when you are struggling to get food down.  Stays fresh in the fridge for several days.  It works very well for a lunch meal away from home. Ingredients: 1 lb. potato (or 1 giant idaho potato) (7g, 283c) 2 hard boiled eggs [12g, 156c] 1 ounce…

10000

An important basic foundation recipe for mashed potatoes with added protein. This recipe can used to add thickening to broths in the full liquid stage. Ingredients: 4 large Idaho potatoes -or- 4 lbs. 1 cup Milk [8g] 4 oz. Greek Yogurt, 0%  [3*4=12g] 1 cup sauteed onions Directions: Peel and chop potatoes into cubes. Boil potatoes in…

10000

After gastric bypass surgery, people are sometimes temporarily lactose intolerant. This recipe adds protein to the broth with soymilk. Ingredients:  1 cup soy milk [10g] 2 cups mashed potato puree  [16g] 3 cups chicken broth [6*3=18g] Directions:  Add all ingredients to blender or food processor and pulse until mixed into a runny smooth broth.  Freezes very…