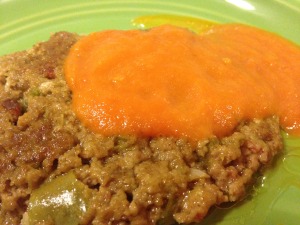 This is my recipe for OMG Beef Crumble, named so because of how soft and easy it is to eat this.  I'm not kidding; this will melt in your mouth. Before you know it, you will be done with this portion.  There is almost no chewing involved, which makes this perfect for after weight loss surgery and the puree stages.   As a side note, I made it to Onederland today! 
Meat Crumble:
8 oz Ground beef (20% fat) (36g,640c)
1 can condensed cream of chicken soup (7.5g,175c)
½ green pepper, finely chopped (4 ounces)  (.9g, 20c)
2 scallions  (1g, 20c)
3 teaspoons chopped ginger (6c)
1 Beef frank (6g, 150c)
Mix in food processor.  Spray a large sheet of parchment paper with oil spray. Place mixture on parchment paper and roll into log shape. Pinch corners and twist the two ends in opposite directions.  Place roll into a 9×13 rectangular baking pan. Bake at 425. After 30 minutes, open the parchment paper and pat the mixture flat across the entire pan. Bake for 15 more minutes.
Yields 18 ounces of meat crumble. (6 * 3 ounce portions, 8.71g, 171c each)
Tomato Gravy
In a saucepan, combine:
1 can chopped tomatoes with green chiles (or plain chopped tomatoes) (2.5g, 50c)
1 can chicken broth (0g, 50c)
4 tablespoons ketchup (80c)
3 ounces sauteed onions  (.3g, 90c)
Cook on high until sauce bubbles. Lower heat to medium and cook for 15 minutes until vegetables are soft.  Blend.
Serve 3 ounces of OMG Beef Crumble with 1 ounce Tomato Gravy for a 9 gram protein meal.
Related Posts
10000

Sauteed onions are a basic flavor enhancer to pureed foods. Directions:  Chop six large onions in food processor. Add to crockpot with 1/4 cup oil. Cook for ten hours or until golden, stirring once per hour. After cooking the onions, drain the oil and mix in a food processor until smooth.  Add mixture to ice cube…

10000

In the pureed stages, these cheese crisps protein snacks can be chewed once for instant pureed texture.  Chew with discretion, and know yourself! 6 crisps -or 1 ounce- is 7 grams of protein.  "The key for me was watching the bubble turn brown first."  ~ Stace Russell-Samuels, Florida Directions: Place a sheet of parchment paper on a…