Looking for protein powder ideas? Combine with Jello and get rid of chalky drinks forever.  Turns to liquid in the mouth, so it might be okay to try this in the full liquids stage when protein shakes and yogurts are allowed.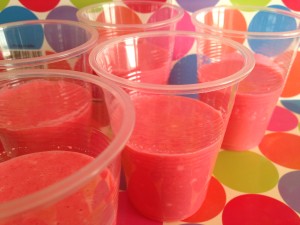 Ingredients: 
1 cup soymilk (10g)
1 pack sugar-free jello, favorite flavor (4g)
1 serving protein powder (21g)
½ cup cottage cheese (10g)
1 serving Dannon Light-n-fit Greek Yogurt, favorite flavor (5.43 oz, 12g)
Directions:
Combine cheese, yogurt and protein powder and stir well until smooth.
In a saucepan, combine the soymilk and contents of jello packet.
Stir on high until milk bubbles.
Remove
from flame immediately, or it will foam and spill over.
Stir in with the cheese mixture.
Pour into 4 ounce containers or cups and cool in fridge.
Serve chilled.
Suggestions:
In the photograph, I used strawberry Jello. It tasted like children's Tylenol to me
.  Try orange Jello and vanilla yogurt for an orange julius taste.
Yields: 5 portions of 11 grams protein per 4 ounce serving.
Related Posts
10000

CheeseCake Cup: 16 oz. cottage cheese [56g] 1 package Jell-O Sugar-Free Instant Pudding and Pie Filling, Cheesecake Flavor 1 serving protein powder [21g] 4 tbsp fat-free milk [2g] 8 oz. fat-free or sugar-free cool whip Directions: Mix all ingredients in food processor until smooth. Chill and serve.  Lasts at least two weeks in…