So moist, so chewable, so easy to make! Crumbles in your mouth.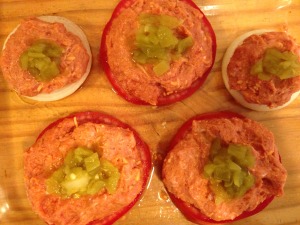 Are you tired of chewing restaurant meals? Make an exotic meal from scratch, and have it ready in advance by freezing these prepared slices raw and baking them in the oven as needed. It only took 40 minutes. Grams of protein are marked with a "g" followed by a "c" for calories.
Meat mixture:
¼ shredded cheese (7g, 80c)
1 egg (6g, 70c)
½ cup Prego Meat Sauce (2g, 90c)
1 Lb. Turkey, Lean Ground (4 oz = (22g, 160c * 5 = 110g, 800c)
1 Chopped Green Chili for garnish, optional
1 large tomato (size of a hamburger patty)
1 large onion (size of a hamburger patty)
Directions:
Cut the tomato and onion into large ¼ inch slices
Arrange in two pans
Mix all ingredients for meat mixture in food processor.
Form medium sized balls of meat mixture and press onto vegetable slices.
Top with chopped green chilis for garnish, optional
Cover pan with aluminum foil
Bake on 450 for 40 minutes.
Serve with Lite Thousand Island dressing. It is important to keep the pan covered to retain the moisture.  It is critical to mix the meat mixture in the food processor so that it is pre-pureed and crumbles without much chewing. Eat it fresh for maximum chewability. Freeze raw slices and bake as needed.
Yields 12 slices (or 6 meals), 2 slices per 4 ounce meal.