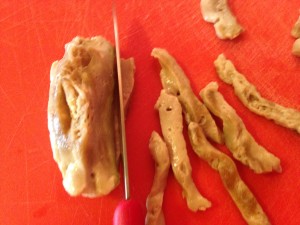 This is a wholesome vegetarian dish that can be prepared in advance and frozen.
Directions:

Directions: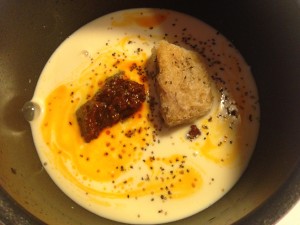 Combine all ingredients except for seitan and boil in a saucepan on medium.
Next, roll the seitan dough into an oblong sausage-shape.
Begin slicing very thin strips.
Then, slice every strip into half, lengthwise.
They should look like very thin flat worms.
Drop seitan fettuccine strips into saucepan.
Simmer on low for 15 minutes, stirring once per minute.
Related Posts
10000

Seitan is made from high-gluten flour, which is a high-protein meat alternative. Very Simple Instructions: Mix equal parts of Bob's Red Mill Vital Gluten Flour with cold water to make seitan dough. Seitan dough may be refrigerated for up to a week. Seitan may be frozen as 2 ounce balls and defrosted…

10000

Do you miss eating Chinese food now that you are sticking to a post-op puree diet? See Basic Seitan Instructions. Ingredients: 2 ounces Bob's Red Mill Vital Gluten Flour  (23g) 2 ounces water 1/4 teaspoon salt 1/4 teaspoon garlic powder soy sauce 1 scallion 4 ounces chicken broth (3g) Directions:…