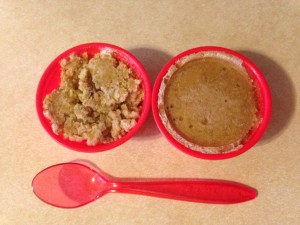 Ingredients:
4 zucchini, raw ground
1 large Idaho potato (1 lb.), raw ground
2 raw eggs [6*2=12g]
salt
pepper
2 oz oil.
1 lb raw ground chicken [7*16=112g]
Directions:
Combine all ingredients in food processor and chop until fine ground.  Pour into 11 x 16 pan and bake for two hours.   Divide into 2 ounce portions at 4.56 grams protein per serving.
Yields: 24 2 oz. servings Chicken Zucchini Souffle, 4.56 grams protein per 2 oz serving.
Photograph of 10 gram protein meal: