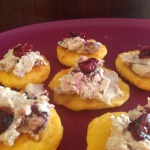 This meal recipe relies on a serving of six Cornmeal Cheddar Crackers which have 15 grams protein, 187 calories.   They are very filling, so do not worry about the portion size.  I like this best after spreading the cheese onto the crackers, and then toasting the crackers in the oven for a few minutes.
Ingredients: 
1 log (4 ounces) spreadable goat cheese (16g,280c)
¼ cup craisins or dried cranberries (120c)
⅛ cup Pacific Soymilk  (1.25, 17.5c)
1 teaspoon cinnamon
1 teaspoon lemon juice
1 packet sweetener
Directions:
Combine all ingredients in a microwave safe container.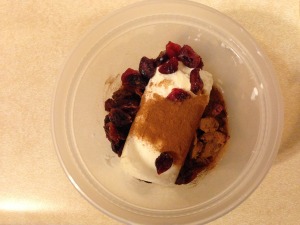 Microwave for one minute. Mix well.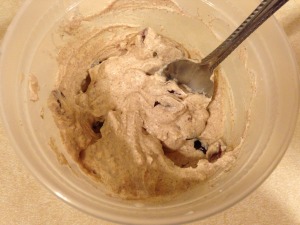 Refrigerate in same container, or divide into four small condiment containers for portion control.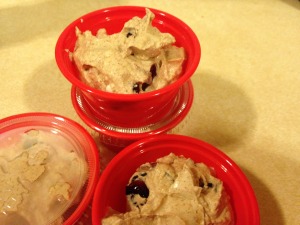 Yields: 4 ounces of cheese. Serving size: 1 ounce, 4 grams protein, 104 calories, plus six Cornmeal Cheddar Crackers (15g,187c) totals to 19 grams protein, 291 calories.
Related Posts
10000

This is the by far the fastest meal to heat up and enjoy.  You can freeze the mixture in a microwave safe container and heat up for lunch straight from the freezer.  The onions will caramelize in the microwave, the cheese will melt, and the edamame will be infused with…

10000

Ingredients: 1 egg (6g) 1 ounce feta cheese (6g) 1 ounce shredded cheese (8g) 1 teaspoon bruschetta from jar ¼ ounce minced onions (1/4 slice from one ounce cubes) salt & pepper to taste Directions:  Spray small frying with oil. On medium heat, combine feta cheese, minced onions and bruschetta, cook until bubbling.…