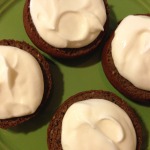 Looking for ideas for incorporating protein powder into your recipes?  Here's a fabulous fool-proof and gluten-free recipe that will leave you drooling.  It's time to party like you mean it!
Ingredients:
1 Banana (1.3g,105c)
3 Eggs     (19g, 210c)
1 scoop unjury protein powder, unflavored or your favorite flavor (21g, 100c)
2 tablespoons olive oil (240c)
4 ounces unsweetened applesauce (50c)
4 ounces fine cornmeal (8g,355c)
3 Tablespoons Chia Seeds  (9g, 180c)
½ cup soymilk (5g, 70c)
4 Tablespoons Unsweetened Cocoa Powder (56c)
¾ teaspoon baking powder
1 ½ cups greek yogurt  (34.5g,255c )
1 teaspoon mint extract
2 packets artificial sweetener
1 cup sugar-free whip from can. (120c)
Directions:
Prepare cream first. Squirt whip to fill an 8 ounce cup. Nuke in the microwave for 20 seconds, then add in the 2 packets sweetener and mint extract. Add to the yogurt. Mix well and refrigerate.
Preheat oven to 350. Prepare a large muffin pan by spraying it with oil spray.
Mix the rest of ingredients in food processor, and pour into muffin pan, dividing mixture evenly between 11 cups. One cup will be empty in your pan.
Bake for 18 minutes.

Remove muffins from pan and place upside down on cutting board.  With a knife, slice each cupcake in half.

Top each slice with one heaping tablespoon of cream.  Stack or layer the cakes if you wish.

Store in party cups, or containers.

Allow cream and to set overnight in fridge.
Yields: 11 cupcakes, 1 ½  ounces each.
SUGGESTED SERVING: 2 cakes with 1 ounce cream in each, 17.7 grams protein, 326 calories. 
2 cakes plain = 11.5 grams protein, 258 calories
1 cake with cream: 8.8g,163c