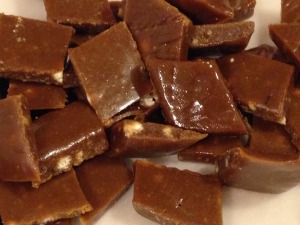 A tiny little taffy or candy to curb your cravings. You eliminate the butter and add the milk and Torani to make it a soft taffy, or exclude these two ingredients to make it a harder candy.
Ingredients:
Directions:
Line a large pan with parchment paper
In a small saucepan, add milk and coffee. On a small flame, stir until coffee is dissolved. Add rest of ingredients and boil on medium, stirring constantly.
When mixture bubbles and is smooth, pour onto parchment paper and spread 10 1/4″ thin.
Allow to cool in fridge for 15 minutes, and then cut into tiny bits.

Return the pan to the fridge if it becomes too soft to cut and sticks to the knife.
Store in refrigerator.
Idea:  Keep a small taffy on your tongue while drinking your protein drinks. It will infuse the drink with flavor as it dissolves.  Works well with tea.
Yields: About 8 ounces of taffy, roughly 12 candies per ounce (96 pieces, fingernail size). 
CAUTION:  5 pieces will have one gram of sugar. Eat in moderation to avoid dumping.