This will be extremely juicy and moist, and will be absolutely no problem to chew and swallow without drinking. You will be surprised how much the teriyaki makes the greek yogurt taste disappear and melt into an amazing dressing. One roll should suffice as a 4 ounce meal.
Ingredients:
1 ounce greek yogurt  (3g,15c)
2 teaspoons Lawry's Teriyaki with Pineapple (20c)
2 slices deli turkey breast  (14g,80c)
1 large lettuce leaf
2 thin red pepper strips (red and yellow)
Prepare your sandwich roll: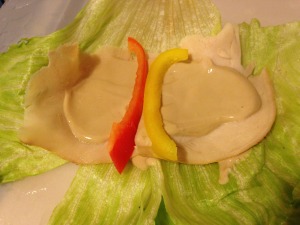 Mix the greek yogurt with the teriyaki.
Spread ⅓ mixture over a large flat lettuce leaf.
Add one slice turkey deli.
Spread ⅓ of the mixture over the turkey slice.
Lay 2 slices of pepper vertically.
Add the second slice of turkey deli
Spread the remaining ⅓ of yogurt mixture.
Begin to fold the roll. Bend the north/south ends inward, and roll the west end towards the east end.
Store in a re-usable deli container or zip-lock bag.