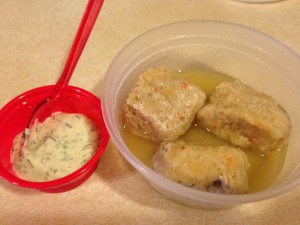 Gefilte Fish is a traditional Jewish food.   This is a very easy meal to prepare and packed with high protein.  Gefilte Fish is ground up white fish sold in frozen rolls.  It is suggested that the rolls is cooked in water with sugar and spices.  Skip Greek Dill Dip if you are lactose intolerant.
For the bariatric puree stage, it is best to purchase one unsweetened roll of gefilte fish from your supermarket's freezer isle.  Allow the roll to defrost, and place raw mixture into ice cube trays so that each cube will be one ounce.  Freeze for several hours. before cooking as directed:
Directions: 
Slice one large onion into four slices and place in 8 quart pot.
Add frozen cubes to pot.
Cover with 4 quarts cold water.
1/4 cup articifical sweetener
1 tablespoon salt
3/4 teaspoon white pepper
Cook for 1 1/2 hours on medium.
Allow to cool and store in airtight containers, 3 cubes per container. Divide the broth into all the portions.  Traditionally served chilled, may also be enjoyed warm.
Yields: 7-8 portions of 3 oz servings, 9 grams protein per serving.
Serving Suggestion:
As shown on photograph, serve 3 ounces of gefilte fish (9g) with 1 ounce Greek Dill Dip (3g) for a 12 gram protein meal.  The broth and dill dip will help with the chewing, making this a perfect protein sweat and savory meal in the pureed stages.
Related Posts