Pair with cottage cheese for a lean pre-op breakfast.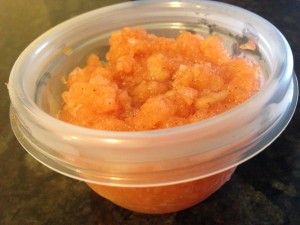 Directions:
Buy six large Cortland apples. Peel and core.  Chop in food processor with one teaspoon lemon juice, and one tablespoon cinnamon.  Store in 1/2 cup containers and freeze.  For breakfast, microwave one container for 1 1/2 minutes with the lid slightly open.  The apples will cook in its own juice, and you will have warm cinnamon apples for breakfast, all for just pennies.
After your surgery, you can freeze the apple mixture in ice cube trays (1 cube=1 ounce) and add them to your protein shake for a revolutionary taste.
Related Posts
10000

Your surgeon will have specific requirements for the pre-op diet. The purpose of the diet is not the weight loss, but to reduce fat to the extreme. This shrinks the liver, making it easier to lift up and operate behind it. The pre-op diet is severe, and many people never…

10000

This recipe really surprised me, since it was such a welcome change from all the fake chocolate attempts found in typical protein powders. Ingredients: 2 ounces (two cubes) Apple Cinnamon Fruit Cup 1 teaspoon cinnamon 1 shot of Torani Coffee Syrups, Sugar Free Caramel 1 packet Splenda or sweetener 1 cup milk (8g) 2 ounces water 1…