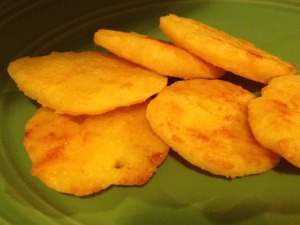 In this recipe, you can freeze the dough mixture in a roll, and then cut small slices to bake. These will be little crackers to go with your favorite dips or toppings. The other option is to freeze the mixture and then form 2 ounce balls which can be flattened into patties. These will be a perfect sandwich size for an amazing meal to go. Sandwich breads work excellent for grilled cheese or mini pizzas.
Flourless, Low Carb, Low/No Sugar, Gluten-Free.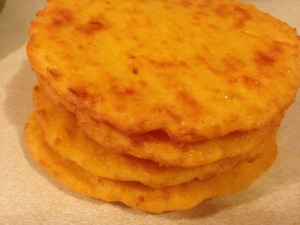 Ingredients:
8 ounces reduced fat Cheddar Cheese, shredded 8-oz block
6 ounces greek yogurt
1 scoop unjury protein powder, plain unflavored
½ cup fine cornmeal
¼ cup Pacific Soymilk
½ teaspoon salt
Directions
In a food processor, chop the cheese until finely shredded. Add yogurt and soymilk and pulse until combined. Add the protein powder, cornmeal and salt and process until a dough begins to form. Directions continued below…
For Cornmeal Cheddar Sandwich Bread:
On parchment paper, shape dough into a small log. Freeze for 45 minutes. Slice into seven even parts (measure 2 ounces each). Roll each piece into a small ball, and then flatten like a patty onto the parchment paper.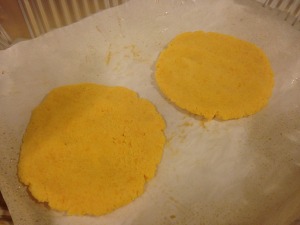 Bake two at a time for 30 minutes, or one at a time for 20 minutes. Flip upside down to cool.
For Cornmeal Cheddar Crackers:
Divide the dough into two balls on separate sheets of parchment paper.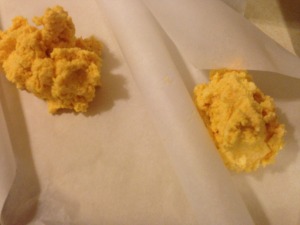 Form each half into a log resembling a cardboard paper towel tube.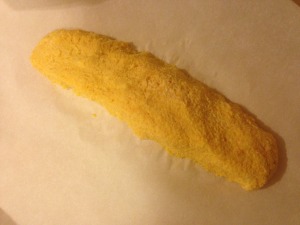 Roll up the parchment paper and freeze the logs for 45 minutes.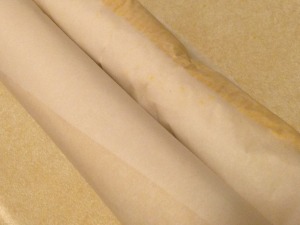 Preheat oven to 350°F. Grease two baking sheets or line them with parchment paper.Slice the logs thinly and place the dough circles on the baking sheets.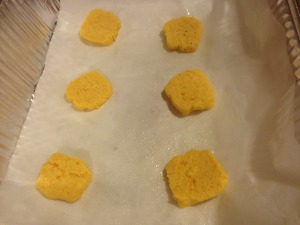 Bake for 20 minutes for 6 small circle slices at a time. Flip upside down to cool.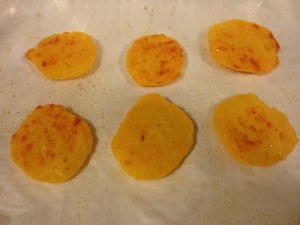 Yields: 7 sandwich bread slices, or 7 portions of 6 crackers per serving. A single 2-ounce servings is 15 grams protein, 187 calories
Related Posts
10000

This mini pizza relies on a single slice of Cornmeal Cheddar Sandwich Bread which has 15 grams protein, 187 calories.  Add 1 tablespoon of salsa and 1 heaping tablespoon shredded cheese, and top with your favorite topping.  Bake for ten minutes. Ingredients: 1 Cornmeal Cheddar Sandwich Bread (15g,187c) 1 tablespoon salsa…

10000

This is a hit! Perfect in the puree stages for topping refried beans. Non-dairy lactose free imitation sour cream can be used to top any protein meals.  Additionally, the cream can be added as a base for cream soups, and mixed with a batter for breadcrumb covered recipes. Also makes…