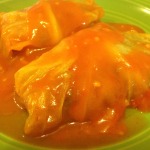 This vegetarian recipe was designed to create a balanced meal of necessary Carbs and Fats for Post-Op Breakdown of Proteins.  If you are lazy to stuff the cabbage leaves, then shred the cabbage and cook everything together in the oven.
Ingredients:
½ head cabbage (8g, 150c)
1 can chickpeas (21g,350c)
2 slices roasted red pepper from jar, chopped (15g, 30c)
2 large scallions, chopped  (.6g, 20c)
½ rutabaga, or 8 ounces finely shredded (2.2g,76c)
2 tablespoons lemon juice
3 tablespoons olive oil (360c)
3 tablespoons soy sauce (3g,33c)
1 teaspoon salt
½ teaspoon black pepper
Sauce:
1 can condensed cream of __ soup (mushroom, etc,) (7.5g,175c))
1 can tomato sauce (7g, 140c)
2 teaspoons minced garlic  (.8g, 8c)
Directions:   
Peel cabbage leaves from head:
With a knife, cut around the core of the cabbage head.

Place the cabbage into microwave and nuke for 3 minutes. Slowly peel the outer layers. If more leaves are needed, return to microwave and nuke for another 2 minutes, and peel the rest of the leaves.
Mix sauce ingredients inside a large shallow oven pan.
Combine the rest of ingredients in a bowl and toss well.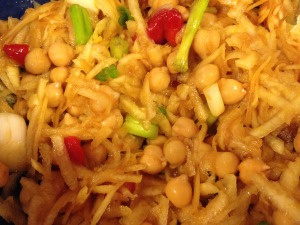 Stuffing the cabbage: Place a single large leaf on a flat surface with the spiny end facing you.   Place two heaping tablespoons of mixture into the center of the leaf.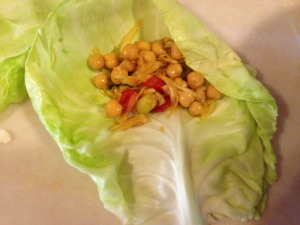 Fold the right and left sides of the leaf inwards, and begin rolling the spine end towards the topmost corner. Place the spine of the leaf facing up when putting the roll into the pan. The sauce will be thick and will hold the rolls in place.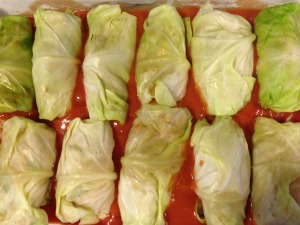 Cover with aluminum foil and bake in oven for one hour at 350. Remove from oven, and with a spoon, carefully cover the rolls with the sauce.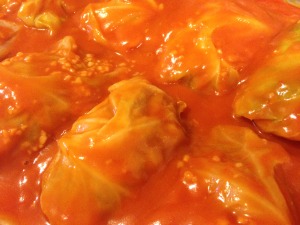 Cover the pan with aluminum foil and return to oven for 30 minutes.
Yields: about 12 rolls of stuffed cabbage, 2 per 4 ounce portion, at 11 grams protein, 223 calories
Related Posts
10000

Post-op patients must remember to add necessary carbs and fats on top of their protein, in order to break down the protein with body fat rather than muscle mass. If you had RNY gastric bypass weight loss surgery, then you are experiencing rapid weight loss like me.  This causes your body to burn the muscles…

10000

This recipe is dedicated to my personal trainer who tipped me off on the need for healthy carbs and fats that post-op patients need for breaking down protein with body fat instead of muscle mass.  Pair these harvest vegetable side dish rose cups with a high-protein recipe for the ultimate meal. Without further ado, here…

10000

The rutabaga is the secret in this recipe. It will lend a starchy and earthy taste which will work like a potato but deliver healthy and necessary carbohydrates instead.  The apple and orange will add a zesty flavor to balance the spices, creating a very savory hash bite.  These taste amazing when warm, or room…