Easy to cook, and hearty to eat. Gluten-free spaghetti squash noodles with non-dairy cream base.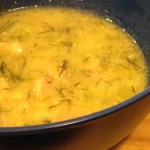 Ingredients
3 Fresh Boneless Skinless Chicken Thigh Cutlets (60g, 330c)
3 ½ cups homemade chicken stock (21g, 516c)
6 Tablespoons (3 ounces) Cashew Cream (15.4g,444)
1 ½ cups Spaghetti Squash, cooked (.9g, 46.5c)
1 bunch fresh dill
2 zucchini (4.8g, 66c)
2 cups water
½ teaspoon salt
¼ teaspoon white pepper
Directions: 
Peel and chop zucchini and dill into tiny pieces.  Chop chicken into tiny cubes. Add to large pot with water and 1 cup chicken stock. Cook for 20 minutes on high. Lower to medium and add 2 ½ cups chicken stock, cashew cream, and spaghetti squash, salt and pepper. Continue to cook for an additional 20 minutes. How to cook spaghetti squash, click here.
Yields: 60 ounces soup, or 15 portions of 4 ounces each.  Add more chicken to increase the protein.
Related Posts
10000

This is a hit! Perfect in the puree stages for topping refried beans. Non-dairy lactose free imitation sour cream can be used to top any protein meals.  Additionally, the cream can be added as a base for cream soups, and mixed with a batter for breadcrumb covered recipes. Also makes…

10000

Spaghetti squash is a well known dieter's secret for a low calorie gluten-free alternative to pasta.  To prepare the squash, cut in half and place face-down on a baking pan in the oven set to 500 degrees. Bake for 30 minutes.  Discard the seeds, and scrape out the squash with…