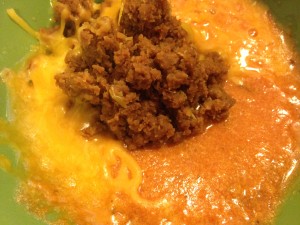 15.5 grams protein Meal:
2 ounces Lemongrass Soy Crumbles (11g)
1 ounce Marinara Cream Sauce (1g)
1 ounce shredded Cheese (3.5g) [skip if you are lactose intolerant]
Recipe:
Marinara Cream Sauce
Total 32 oz sauce = 34/32=1.0625 g per ounce of sauce
Lemongrass Soy Crumbles:
 1 1/2 teaspoons Gourmet Garden Lemongrass paste
½ cup marinara cream sauce (recipe above)
1 tablespoon mustard
two tablespoons soy sauce
1 package Lightlife Smart Ground Veggie Protein Crumbles, Original
(2 ounces = 11g )
Directions: 
Prepare marinara cream sauce by boiling all ingredients in a large saucepan on medium, stirring constantly until sauce bubbles.
Next, spray a large non-stick frying pan with oil spray.
Combine lemongrass soy crumbles liquid ingredients and stir until blended.
Crumble the soy into the pan and stir well.
Crumbles should brown after 3-5 minutes.
Remove from heat.
Prepare meal as described, and store remaining sauce in ice cube trays for future meals.
Suggestions:
Combine crumbles with cheese and sauce with every spoonful and chew thoroughly to preserve your puree requirements.
It is helpful to have a plate warmer to keep the meal hot until you finish eating.